Dental Implants - Concord, CA
The Only Permanent Solution for Tooth Loss
Dental Issues Affected My Overall Health, Dental Implants Improved My Entire Life!
Betty's Story
Smile Confidently Again with Dental Implants
Tooth loss can cause aesthetic and functional damage, while research shows it can also cause negative psychological effects such as low self-esteem and anxiety/depression, as well as cognitive impairment in older adults. Regardless of age, tooth loss has negative consequences on your oral health because it can lead to drifting of adjacent teeth, over eruption of opposing teeth, gum disease, decay and loss of other teeth. 
Without a tooth to stimulate the underlying bone, bone loss progresses unchecked and can cause undesirable facial changes. In older adults, having no or few teeth has been associated with frailty, a decline in gait speed and activities of daily living and mobility limitations. 
If you're uncomfortable coping with the many consequences of missing teeth or tired of living with ill-fitting dentures, dental implants in Concord, CA may be the perfect solution to restore your confidence and oral health!
What are Dental Implants?
The three-part dental implant consists of a titanium post surgically placed in your jawbone, an abutment connector and a natural-looking ceramic prosthesis such as a crown, fixed bridge, hybrid dentures or full arch dental implants. The three components work in unison to ensure the extracted natural tooth is restored to perfection. Implants are known for their superior stability and longevity. 
The implant has screw-like grooves on its surface that helps keep it firmly in place. The success of dental implants varies on where they are placed in the jaw and the expertise of the clinician. When placed by an experienced implant dentist such as Dr. Gavin Ewing, dental implants have a success rate as high as 99%. In addition, the life expectancy of implants is relatively high with proper care.
Versatile Dental Implants Offer a Lifetime of Benefits
In the past, dentures and/or bridges were considered the most effective solutions for missing teeth. Dentures can be difficult to maintain, shift or fall out when you speak or eat, irritate your gums and can become painful to wear. Bridges require modification of adjacent teeth on both sides of the false tooth. 
With dental implants, you'll never have to worry again about teeth slipping or falling out because the posts are permanently placed and fuse with your jawbone. And unlike bridges, dental implants don't require modification and support of adjacent teeth, therefore the tooth structure isn't compromised and you can brush and floss them like natural teeth. Most importantly, dental implants are the only tooth replacement solution that assume the function of a natural tooth root, therefore they keep the underlying bone healthy and encourage new bone growth. 
Dental implants in Concord, CA offer unsurpassed versatility because they can replace a single tooth, support and stabilize dentures or dental bridges. Full arch dental implants restore complete function and aesthetics.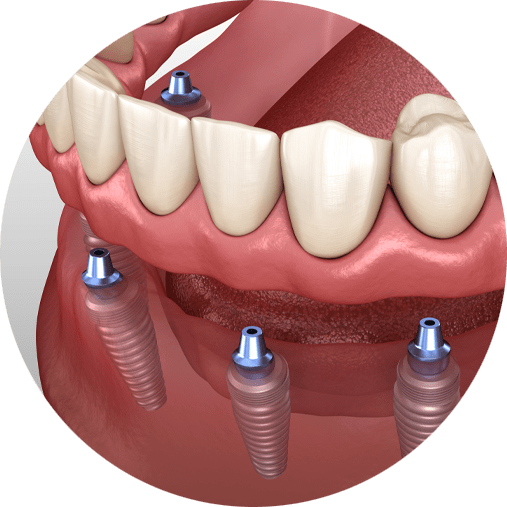 Implant Supported Dentures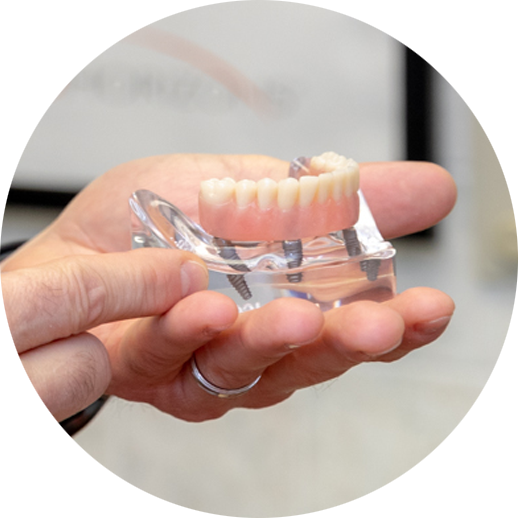 Full Mouth Dental Implants
Our Personalized Dental Implant Process
Your journey to a restored smile starts with a consultation with Dr. Ewing. During your initial visit, we perform an oral exam and use cone-beam computed tomography (CBCT) to analyze your bone structure, nerve tissue and sinus cavities. If it's determined that the underlying bone is inadequate, we'll likely recommend bone grafting to ensure an optimal outcome. 
For most patients, the placement of dental implants involves two surgical procedures. Dr. Ewing uses highly sophisticated and advanced dental instruments to make a tiny hole in predetermined sites in the jawbone with the strongest bone density. He also uses robot-assisted surgery with Yomi® to enhance digital workflow and placement efficacy. This technology eliminates the need for a surgical guide while maintaining superb accuracy. 
The majority of patients who receive dental implants say the procedure isn't painful. Local anesthesia is used to numb the gum tissue and help prevent pain and discomfort during surgery. Throughout the procedure, your blood pressure, pulse and oxygen levels are continuously monitored to ensure your safety and comfort.
Dental implants gradually fuse with your jawbone in a process called osseointegration, which typically takes three to six months. Like most patients, you'll likely experience minimal disruption in your daily life. After the implants have completely fused with your jawbone, we uncover the implants and attach a small metal abutment that acts as an anchor for the final replacement tooth, bridge or full arch dental implants. 
The entire dental implant procedure usually takes six to eight months. The final prosthesis is carefully customized and fabricated by a dental lab to match the exact color and contour of your natural teeth.
Top 5 Mistakes People Make with Dental Implants
Do you have all the information you need to make the right decisions about dental implants? Don't make any of these five common mistakes. Our exclusive checklist will steer you in the right direction.
The Long-Lasting Benefits of Dental Implants
We Deliver Transformative and Affordable Dental implants
Dental implants provide life-changing advantages that are associated with a higher cost than less permanent tooth replacement options. It helps to view the dental implant cost as a long-term investment in your self-esteem, oral health and systemic health. This investment pays dividends because you'll experience dramatic improvements in all of these quality of life factors!
Because we want everyone to enjoy these transformative benefits, we strive to deliver high-quality, affordable dental implants in Concord, CA. We also file insurance claims on your behalf and accept third-party financing from CareCredit and Proceed Finance.
I understand the information disclosed in this form may be subject to re-disclosure and may no longer be protected by HIPAA privacy regulations and the HITECH Act.
candidate for dental implants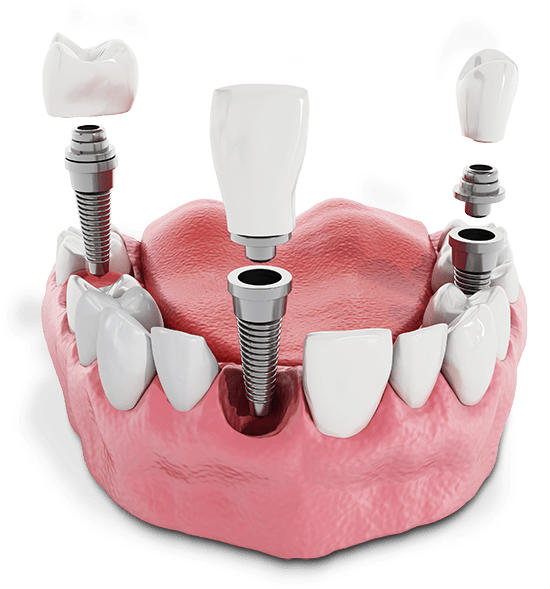 Answer the Following Questions To Learn more about our pricing and financing options.