Full Mouth Dental Implants - Concord, CA
Versatile Dental Implants Provide Full Forever Smiles
My Teeth Were Falling Out One By One, Dental Implants Restored By Confidence
Tony's Story
We Complete Missing Smiles with Top Technology and Artistry
According to the American Dental Association, it's common for adults aged 20 to 64 to have three or more decayed or missing teeth. Even a single missing tooth can cause loss of bone and shifting of surrounding teeth, while the spaces can harbor bacteria and cause decay in remaining teeth and gum infections. If you feel uncomfortable when smiling because you have missing teeth or are tired of ill-fitting dentures irritating your gums, full mouth dental implants in Concord, CA may be the perfect solution. 
Dr. Gavin Ewing is dedicated to providing the latest, evidence-based dental implant technology and techniques. At Smile Makers Dental Care Our, we offer hybrid dentures, also called All-on-4 or All-on-X. These implant protocols rely on a minimum of four dental implants strategically placed in areas of your jaw with the strongest bone for maximum prosthetic stability and function. 
When you choose full arch dental implants in Concord, CA, you'll experience a restored smile, improved quality of life and wonder why you didn't make this life-changing decision sooner!
Removable Dentures and Fixed Bridges Have Limitations
Traditional dentures are customized to fit over your gums and stay in place with suction and dental adhesive. Bridges require modification and crowns on each side of the missing tooth and bone loss progresses unchecked under the false tooth. While dentures and bridges can help you resume a more varied diet and smile confidently, the underlying root structure is still missing. 
A traditional denture can become ill-fitting due to bone recession and associated changes in the overlying gum tissue. As such, dentures can slip, click and fall out, which can lead to problems speaking and potentially embarrassing situations. In addition, atrophying bone can cause your facial structure to change and look more aged. 
All-on-X full mouth dental implants or hybrid dentures are fixed in place, so you'll never have to worry again about teeth slipping or falling out, food restrictions, removal at night, cleaning or messy adhesives. With both of these protocols, titanium posts inserted into your jawbone assume the role of the missing natural tooth roots, thereby providing strong and stable support for your new teeth. Full mouth dental implants preserve your bone health and density while restoring beauty, comfort and function.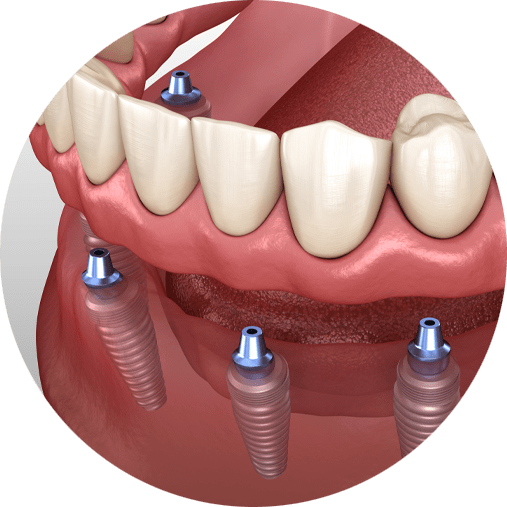 Implant Supported Dentures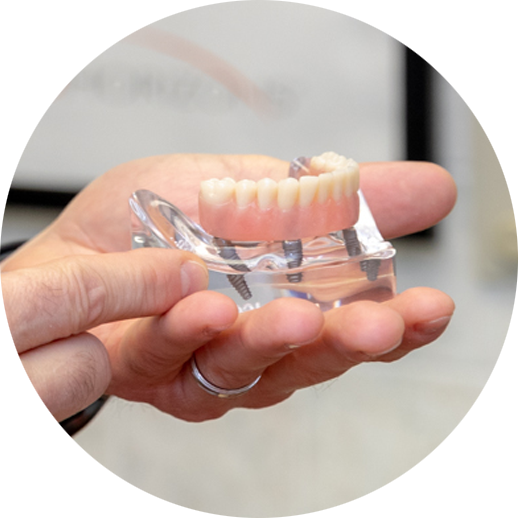 Full Mouth Dental Implants
Get a Restored Smile in Three Streamlined Steps
When you receive full mouth dental implants in Concord, CA, the process is performed in three streamlined steps—with advanced technology throughout the entire treatment process. Dr. Ewing believes in investing in the latest technology to benefit his patients. This includes robot-assisted surgery with Yomi® to enhance digital workflow and placement efficacy.
Dr. Ewing has extensive training and experience placing All-on-4 to 6 dental implants and a passion for helping patients achieve healthy smiles through extraordinary care. Your treatment plan is tailored to fit your unique health, smile and functional needs, as well as your financial budget. Full arch dental implants in Concord, CA provide the aesthetically-pleasing appearance of a natural teeth while permanently restoring your vitality, oral health and quality of life.
Step 1: Consultation and Planning
At your first full mouth dental implants consultation, Dr. Ewing will discuss your functional and aesthetic smile goals, perform an oral exam and diagnostic imaging with cone-beam computed tomography (CBCT) to analyze your bone structure, nerve tissue and sinus cavities. Our team will help you decide the best full arch treatment protocol to fit your needs. We also offer innovative Digital Smile Design that merges digital imaging and 3D software systems with your smile expectations to help ensure your final full arch dental implants closely matches your desired smile.

Step 2: Guided Implant Surgery
Digital technology enables creating a streamlined, preplanned and customized solution that eliminates the possibility of error. The 3D image taken during your first visit helps determine the most optimal areas in your jawbone to place implants, usually without the need for bone grafting. If you do need bone grafting or extraction of remaining teeth, this can sometimes be done in the same visit as surgery. Hybrid dentures and All-on-4 to 6 dental implants involve placing four to six dental implants at specific angles in areas of your jaw with the densest and plentiful bone. All-on-X full arch dental implants provide greater versatility because this protocol enables placing additional implants in patients who need more stability. Before you leave, you'll be fitted with a temporary prosthesis created on-site with our 3D printer to wear while your implant sites heal.
Step 3: Healing and Final Restoration
It takes dental implants three to six months to fuse with new bone growth in your jaw in a process called osseointegration. Proper fusion is essential for dental implants to act like natural tooth roots and provide a strong and long-lasting foundation for your new teeth. The prosthetic crown is customized to match the exact color and contour of natural teeth and fabricated from high-quality zirconia by a dental laboratory using digital impressions.
Test Drive Your Beautiful New Smile!
Digital Smile Design in Concord, CA provides a sneak smile preview of your likely treatment results to help ensure your new smile exceeds your expectations.
Dedicated to Affordable and High-Quality Dental Implants
Full mouth dental implants and hybrid dentures are permanent tooth replacement solutions for replacing many missing teeth, and therefore should be considered a long-term investment in your health.
To make the cost of treatment affordable, we offer third-party dental financing. With financing, virtually all patients who desire this life-changing hybrid dentures or full mouth dental implants in Concord, CA!
I understand the information disclosed in this form may be subject to re-disclosure and may no longer be protected by HIPAA privacy regulations and the HITECH Act.
candidate for dental implants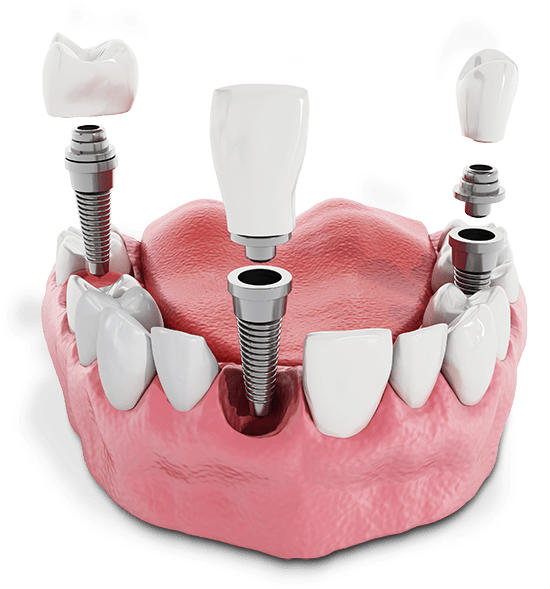 Answer the Following Questions To Learn more about our pricing and financing options.